5 Best Mountain Bikes for Under $1,000 – 2020 Review
If you're reading this article you are likely just getting into the sport of mountain biking or looking to purchase a bike for someone who is. If you find yourself in that category, I suggest you read the section below on why you should avoid cheap mountain bikes.
If you just want to see who makes the best quality mountain bikes under $1000, check out the table of contents below or click the links to hop to a specific bike.
Why You Should Avoid Cheap Mountain Bikes
While it may be a bit of sticker shock, if you are looking for an entry-level mountain bike that has quality construction for true single track mountain biking then I wouldn't recommend purchasing a bike that is any less than approximately the $700 dollar mark.
But, you might say, "When going to my big chain outdoor gear store I see "mountain bikes" that cost as little as $200! What's wrong with them?!"
With the risk of being a bit dramatic, purchasing such a bike for mountain biking is potentially dangerous. There are more than a few YouTubers proving such in wild videos of them putting these cheap "Walmart" style bikes through the rigors of mountain biking with comical but unsettling results.
With high speeds and the steep and uneven terrain that come with mountain biking, a bike takes a bigger beating during the course of a ride than you might think.
If you're simply looking for a bike to take around town that kind of looks like a mountain bike, then spend whatever you want. But we can't recommend you take them down any real trails.
If you visit a website and see anything about "The Best Mountain Bikes Under $300", you should immediately leave that website.
Basically, if a company is going to try and sell a "mountain bike" for $200-$300, they're going to have to cut a lot of corners on the components. In addition, they probably aren't going to pay someone particularly knowledgeable to set it up. This is where a bike like this can be dangerous.
Properly set up and adequately performing brakes are a must. Components with all their bolts and fasteners tightened are a must. Wheels that are strong enough with properly tensioned spokes are a must. Without being properly set up, the potential for one of the bike's components to fail and result in a crash is real.
Now, you can still find a properly constructed bike marketed as mountain bikes for less than $700, but its components and design will not offer a baseline performance that actually makes sense for the needs of true mountain biking.
Below the $700 price point, brakes will likely no longer be hydraulic and offer poor stopping power. Front suspensions forks will feel more like pogo sticks rather than the true spring and damper systems they should be. Wheels will be of poorer construction and prone to bending from the impact of rough trails.
A $700 to $1,000 Mountain Bike Gives You Space to Grow
If you are the least bit interested in growing your skills in mountain biking with confidence, you are going to have to at least spend in the $700 to $1000-ish range. At this price point you are getting entry level components but ones that are still ultimately designed and fit for mountain biking (rather than trying to masquerade as ones).
However, the cost must be saved somewhere and as such, you won't see a rear suspension, 1 x 12 drive trains, or dropper seat posts on these bikes.
Basically, you'll be looking for entry-level hardtails (the term used for bikes without any rear suspension). If you really want, you can always purchase and install a dropper post to make your bike a little nicer.
These entry-level components are going to be heavier and less reliable than on the mountain bikes in the price categories above them. Most of the bikes will be designed with cross-country or trail riding in mind.
The terms "cross-country" and "trail" are thrown around quite a bit below and generally refer to types of riding and therefore the type of bikes that are designed for that style of riding.
What are Cross-Country Mountain Bikes?
Cross-country bikes are best described as focusing on longer rides and prioritizing performance on the climbs and uphill portions of those rides. Among other things, fork suspension travel will be less, and geometry and head tube angles will be fairly "upright" (as opposed to slacker) making for a bike that is maneuverable and nimble uphill.
The downside to this design is a bike that is not optimized to absorb the bumps and bounces of downhill riding and will not offer the best stability at higher speeds.
What Are Trail Bikes?
Trail riding and trail bikes are best described as a blend of both uphill and downhill riding. Fork travel will be longer and geometry and head tube angles will be slacker (i.e. lower) allowing for greater stability and handling when descending. Trail bikes are still very capable on the uphill but take a bit more muscle, skill, and effort to handle climbs when compared to cross country bikes.
How To Choose The Right Bike
So bottom line, is one of the bikes recommended in this article for you?
Consider these questions.
Are you new to mountain biking and know you have enough interest to give it a real shot, but you aren't positive you will ultimately love it for the rest of your life?
Do you know you enjoy mountain biking but it's more about the social aspect and causal, mellow rides with your friends a few times a month?
If you answered yes to either one or both of these then one of the bikes recommended in this article would likely be appropriate for you!
Alternatively, do you know you love mountain biking and can't wait to go as fast as you can and send it left and right?
Do you know you like mountain biking enough that it will be a years-long hobby and something you do at least once a week?
If you answered yes to either one or both of these questions then I would recommend looking at higher price categories to get more performance and lasting value from a bike.
One last point to make is that if you are looking to buy your first mountain bike, make sure to get your frame size correct. You can learn more about measuring a mountain bike frame here.
The Best Mountain Bikes for Under $1,000
1) Vitus Sentier 29 (Deore 1×10) – 2020
Price: $930
click here to check the latest price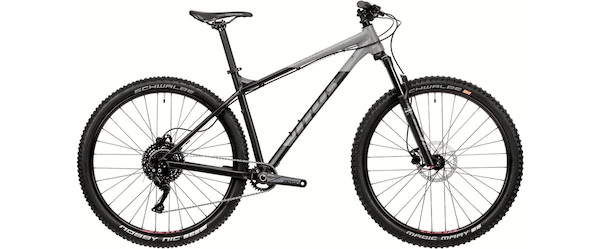 With quite a few options out there for bikes in this category, We didn't think there was going to be just one bike that stood out among the rest as the obvious best option. However, the Vitus Sentier 29 takes those honors.  
Vitus is a France based bike manufacturer who got their start in innovative frame designs back in the 1970s. These days they make a wide variety of bikes. They are also a direct to consumer manufacturer. This means they don't sell their bikes to retail shops as is the traditional model. Instead, they sell their bikes exclusively through online retailers. The result of cutting out the middle-man is some great value on their bikes.
For 850 Euros (Approximately $930USD) you get 130mm of front fork travel provided by an X-Fusion RC32, 1×10 Shimano Deore rear derailleur, and shifter, tubeless-ready rims and with solid Schwalbe tires. That is some great value that almost every other company can't match right now.
With a 66.5 degree headtube angle this bike is firmly within the trail category; built to be an all around-er that will allow for confidence on the descent but still climb uphill efficiently.
The 29" relatively wide tires (2.35") allow for greater pedaling efficiency and that monster truck feel over roots and rocks compared to their 27.5" size counterparts. All of this makes for a great bike for entry-level riders.
With only a 1 x 10 drivetrain you may find yourself wanting that 11th or 12th gear more expensive bikes will come with. I also would have liked to see Vitus keep the more powerful and reliable Shimano brakes that are on the 2019 version vs the 2020's Tektro brakes, but I wouldn't let those facts overshadow everything else about this bike.
The other thing I like most about the Sentier is that it was clearly designed to be more aggressive and trail orientated than just about every other bike at this price point and class.
The slacker geometry, aggressive tires and 130mm of fork travel all add up to a ride that will allow entry-level riders to tackle more technical descents with more speed as their skills progress.
The bottom line: the value on the components spec of the Sentier is best in class and comes with a design and geometry that won't hold new riders back.
Pros:
Best in class value
Trail oriented design and geometry
130mm travel fork
Cons:
Would have liked to see Shimano brakes come spec'd over the Tektro brakes
Click Here to Learn More about the Vitus Sentier.
2) Vitus Rapide Bike (SLX 1×11) – 2020
Price: $999
Click here to check the latest price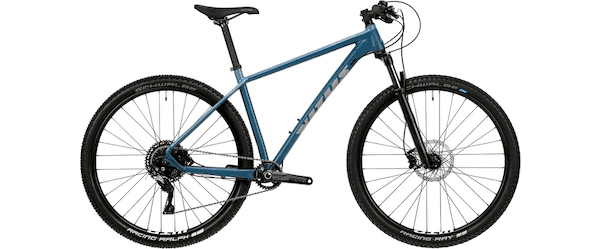 Next, we've got another pick from Vitus. As a company, Vitus appears to be making a real push into the mountain biking market with some hard to match value.
The Rapide is similar to the Sentier but with a cross country design in mind. It has a similar RockShox Recoil RL fork but with less fork travel (100mm) and a remote lock-out switch on the handlebars to firm the fork up for better uphill climbing performance (something you won't find on any other bike in this class).
It also comes with Shimano's 1 x 11 SLX derailleur compared to the Sentier's 1 x 10. The geometry of the Rapide is similar to the Sentier but a bit shorter in both the chainstays, wheelbase, and reach of the bike making for a ride that will feel a bit more maneuverable and snappier.
The Rapide's head tube angle is also 0.5 degrees steeper at 67 degrees.
The Bottom Line: If you see yourself as the kind of rider who seeks out and wants to prioritize longer rides with challenging uphill's and don't look to ride as aggressively on the downhill then the Rapide is the bike to pick over the Sentier.
Pros:
Best in class value
Front fork with remote lock-out
1 x 11 drivetrain
Cons:
Cross country-oriented design and geometry might not be the best fit and balance for those wanting to prioritize descents
Click here to learn more about the Vitus Rapide
3) Trek Marlin 7 – 2020
Price: $799
Click here to check the latest price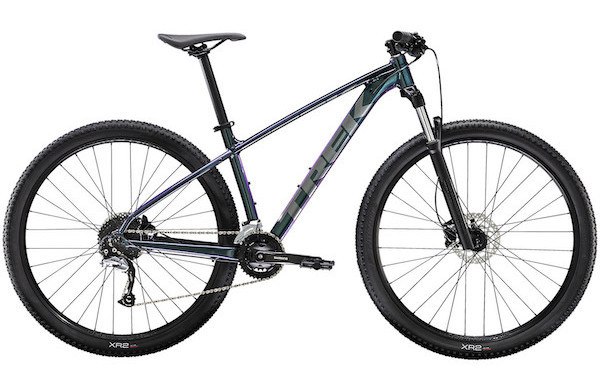 Trek is a mainstay in the biking industry and offers an affordable entry-level cross-country bike in the Marlin.
The Marlin is a true cross-country bike with a 69.5 head tube angle and only 100mm of front suspension. So if you are inclined to start sending it on the downhill as soon as possible then this bike's geometry will leave something to be desired.
Unique to the list, the Marlin offers a 2 x 9 drivetrain giving a broader range of gears to support the uphill climbs compared to 1 x 10 drivetrains seen on comparable bikes.
The front and rear derailleur, as well as the cassette, are good value groupsets from Shimano. The hydraulic disc brakes are also handled by Shimano and can be trusted. The RockShox XC 30 is coil sprung as compared to being air sprung with the Vitus bikes and won't offer the sample suppleness and feel as an air-sprung fork but is still a good value.
The Bottom Line: The Marlin won't offer the same level of performance as the Vitus bikes, but you are getting a well-built cross-country machine with the option to purchase from a local shop.
Pros:
Good value
Bike shop support
2 x 9 drivetrain
Cons:
Cross country design and geometry won't be the best fit and balance for those wanting to prioritize descents.
Coil fork lacks the more supple feel and performance of air-sprung forks.
Click here to learn more about The Marlin 7
4) Kona Mahuna – 2020
Price: $999
Click here to check the latest price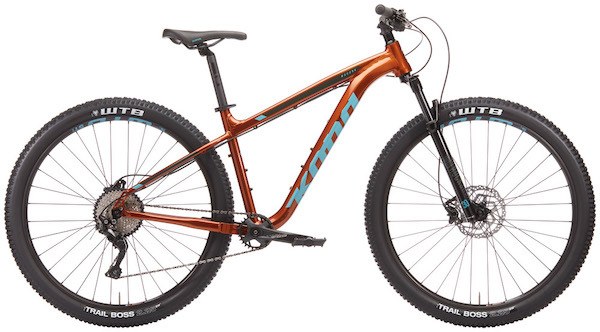 From a company that has produced one of the most well known and praised hardtails in the mountain biking world, the Honzo, the Mahuna is an affordable but well-rounded approach.
While still retaining some cross-country elements, like its air-sprung 100mm RockShox 30 Silver TK, the Mahuna does offer a relatively longer wheelbase and reach in its geometry compared to other bikes in the category, meaning more stability on the descent. The 68-degree head tube angle is a balanced approach as well when it comes to climbing and descending. The Shimano Deore 1 x 10 drive trail is a great value and the Shimano hydraulic disc brakes can be counted on for good stopping power.
The Bottom Line: While many competing bikes in the Mahuna's class tend to lean more on the cross-country side I appreciate the Mahuna leaning towards a more balanced position between trail and cross-country riding. The Mahuna can be counted on as a good value option to handle both the climbs and descents better than many of its counterparts.
Pros:
Balance geometry between trail and cross country riding.
Bike shop support
All around solid components pick
Cons:
Only 100mm of fork travel will likely leave some riders wanting more.
Click here to learn more about the Kona Mahuna
5) Marin San Quentin – $899
Price: $899
click here to check the latest price.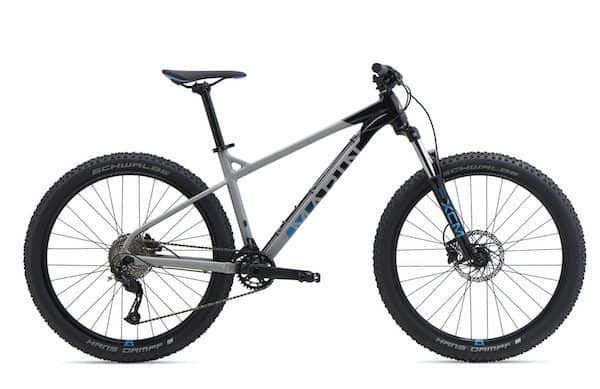 Finally, as a bit of a wild card pick, the Marin San Quentin 1 is an interesting bike that offers a freeride geometry approach with a slackest in class headtube angle coming in at 65 degrees. That's about 1.5 to 3 degrees slacker than most bikes at this price point and will give a ride that is designed for the downhill.
Because of this freeride geometry, the San Quentin would be a unique and good option for riders who are looking to spend most of their time in bike parks or on dirt jumps.
While the Suntour fork and Tektro brakes won't perform as well as their Rockshox or Shimano counterparts and the 1 x 9 drivetrain might hold you back if you're looking to tackle challenging uphill climbs, the value here is a bike that will cater to those looking for an affordable bike with a freeride feel.
The Bottom Line: If you're looking to spend most of your time in bike parks or hitting dirt jumps, the San Quentin would be a great option to look at.
Pros:
Downhill riding geometry
Affordable an option for bike park riding
Cons:
1 x 9 drivetrain limits uphill climbing ability
Click here to learn more about the San Quentin 1
Conclusion
There you have it! The best mountain bikes for under $1,000. As a mechanical engineer and past mountain bike mechanic, I was honestly surprised with how well the Vitus Sentier looks.
If you're looking for your first, entry level hard tail, it'd be hard to go wrong with that one.
If you have any questions about the bikes on the list or any ideas you'd like to toss my way, leave a comment below!