Top 10 Best Lights for Mountain Biking at Night – Best Mtb Gear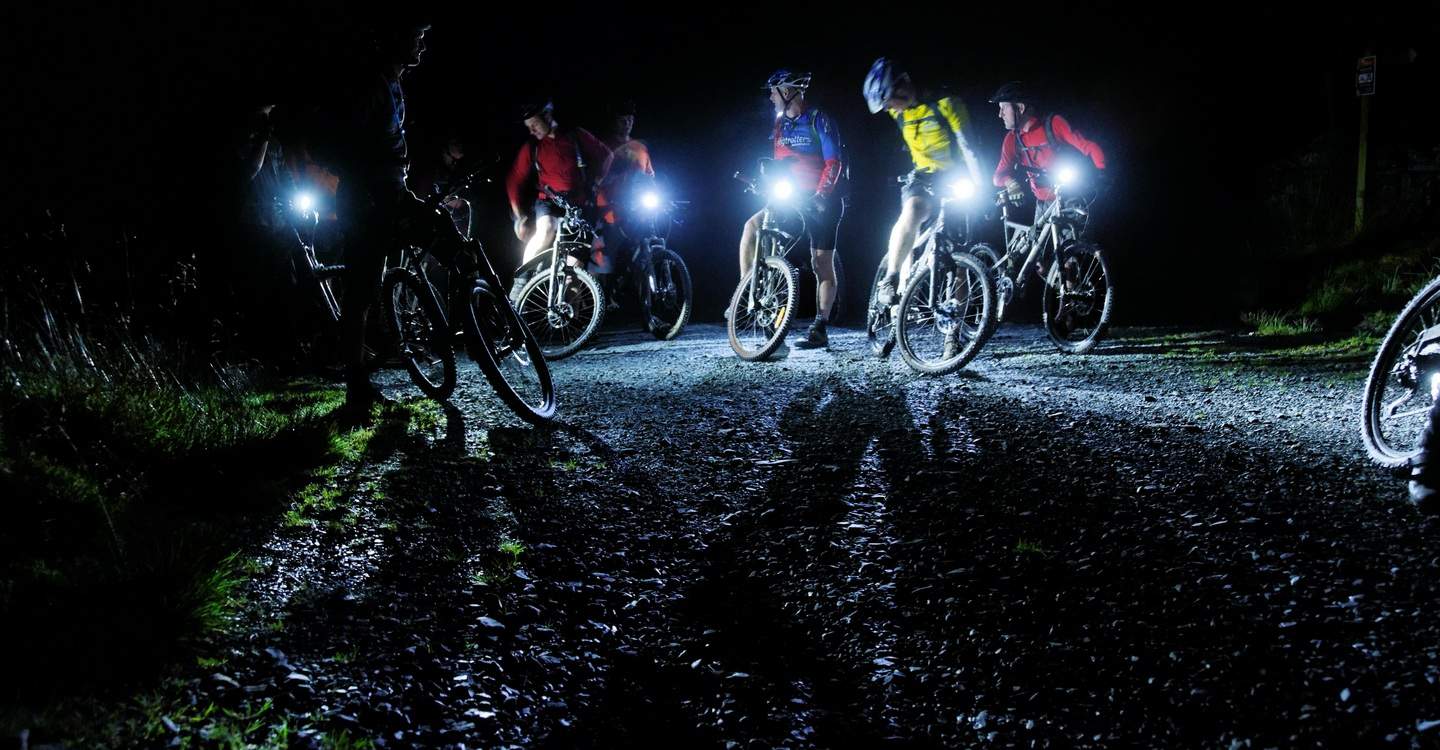 Your mountain cycling journey is bound to reach a point where you'll require bike lights if you are a steadfast mountain biker who can't let darkness sway you from clocking those miles. It could also be you use your mountain tandem for commuting in the early mornings and late evenings when daylight is scarce. Nighttime XC bike racers and trail explorers are other mtb riders who can't go without bike lights. In these and similar cases, this post will be a dependable guide to buying the best mountain bike lights.
Outside the bewildering choice and price point variations, buying the ideal mountain bike lights for your specific mtb ride style can be rather daunting. There's a plethora of factors you must keenly consider to land the most suitable mtb lighting. Besides expounding on all key points of consideration, this post gives a rundown of the best bike lights in 2018 with comprehensive descriptions of each. We'll also recommend the most ideal light for various ride verticals and point you to the mtb light's purchase site.
Best bike lights - Comparison
Things to keep in mind when looking for the best mountain bike lights
There are numerous factors you can think through in your quest to acquire an ideal set of mtb lights but this post will explore only the most vital ones. They include:
Mounting fit
One of the most important considerations you should make prior to mtb lights purchase is the fit. Whether you intend to mount the lights on your bike's frame, handlebars or helmet you first need to ascertain the components will fit securely as weak light fitting may invite disaster. While clamp-on mounts are ideal for heavy mtb bike lights as they are more snug-fitting and rattle-free, O-ring mounts are easy to install and remove on varying diameters of handlebars and provide for easy bike light angling.
Further, you ought to ascertain your helmet bike light mounts clamp or bolt securely through the helmet's vents besides allowing for pivoting so you can easily adjust the illumination angle.
Output power
Usually measured in lumens, the output of an mtb light denotes its brightness. The light's brightness is directly proportional to the number of lumens. While aggressive mtb bike rides call for lights with more power output, casual bike rides would do fine with weaker light beams. In either case, it's important to opt for lights with sufficient power output to clearly illuminate your path.
A common rule of thumbs you can employ to point you to an mtb bike light with suitable brightness is adding 30-40% lumen count to the provided measured lumens. Usually, the measurements are recorded in ideal conditions which often vary from those on-the-ground.
Beam configuration
The pattern of the beam, the manner in which the light is emitted and projected on the trail is a crucial consideration. A high powered bike light output would be useless if it's projected the wrong way. To identify the best mountain bike light you'll need to clarify your particular ride style and terrain beforehand. Technical terrains and slow bike rides are best served by wide light beams whereas wide trails, fast-paced cycling and less challenging terrains can be fittingly tackled with narrow-beamed bike lights.
Moreover, helmet lights are mostly and conveniently narrow-beamed.
Battery specs
While exploring the mtb bike lights, it's important to look at the battery provisions. The most critical specifics to watch for are battery life, rechargeability, the pack's weight and power indicator. In any case, you need a battery that'll last through your entire ride. If you are a long distance mtb cyclist you'll want to settle for a bike light whose battery comes with a power indicator. This will help you better ration your power to last through the trip.
Bike lights battery's rechargeability is also a crucial point of interest. Look into the batteries' rechargeability and recharge duration to identify which will best align with your ride. Though rechargeable bike lights are more costly in purchase than their non-rechargeable counterparts, they eliminate the need for frequent battery purchases as is the case with the latter.
Reliability
It's important that you ascertain the bike light you settle for addresses all your bike lighting issue without offsetting your budget. Here, you should see to it that it's water resistant if you intend to utilize it in the rain. Further, it'd be exceptionally convenient if your bike light of choice is easily detachable to double as a handheld flashlight. While lights equipped with short cables and extension systems are lovable as they can be effectively and easily mounted on helmets and handlebars alike, their all-in-one equivalents are adorable because they are compact thus easily cartable.
Control mechanism
Again, this will depend on your specific ride style but will be influenced to a great degree by personal preferences. An mtb light pack with several controls to configure beam brightness among other aspects can help you use your power more efficiently. On the other hand, remote helmet-mounted bike lights not only perk up the light's convenience of use but also optimize their efficiency. You are more likely to utilize the light's lower power levels with hand-ready controls unlike if you had to reach controls for behind your helmet to regulate the light's brightness.
Top 10 mtb lights reviews in 2017
#1. Divine LEDs Bike Light
Made by Divine LEDs, this set of bike lights comes with a headlight and taillight. The ultimate mtb night ride companion, the set is compatible with mountain, street and kid bikes.
Features:
The set stands at 6.3 x 3.9 x 2 inches and weighs 7.8 ounces.
Bright LED front light with accompanying tail lights.
Pros:
Installation is a walk in the park and doesn't require any tools.
It's remarkably bright, effective and durable thus reliable for road and mountain biking in the dark.
The lights are very affordable to purchase.
Made of Aluminum, the lights are lightweight and sturdy.
The set emits a pleasantly red glow besides the bright light which offers clear visibility.
Cons:
The lights are solidly built but their connectors are somewhat cheaply made.
The headlights' handlebar mounts are a bit too big for some bikes' handlebars.
The set is powered by 3 size AAA non-rechargeable batteries that require replacement when used up. This translates to more expenditure.
Final Verdict:
Despite the few drawbacks, the Divine LEDs Bike Light is doubtlessly one of the best mountain bike lights in efficiency and affordability. Besides, the light can serve as a powerful hand-held flashlight when detached from the tandem.
---
#2. Vision 2 1000 Lumen USB Rechargeable LED Mountain and Road Bike Headlight
Manufactured by Magnus Gear, this LED bike headlight weighs about 10.1ounces (4.2oz) and stands rests at 5 x .25 x 1 inches. It's powered by one 18650 Li-Ion rechargeable battery and features 4 working modes- high (100 Lumens/2hrs), medium (600 lumens/4hrs), low (250 lumens/8hrs) and strobe mode (250 lumens/6hrs).
Features:
Includes XM-L U2 LEDs that emit crystal clear white light.
Rotational mount bracket to attach the headlamp on the bike's handlebars.
A waterproof rechargeable 18650 Lithium Ion battery.
Built with tough but lightweight aluminum to optimize longevity and ease of use.
Pros:
Made of a sturdy aluminum body, this light is indestructible even in the face of aggressive use in extremely challenging retains.
It's waterproof so you can use it to illuminate your mtb's path even during heavy downpour.
Its assembly and detachment is uniquely hassle-free as you require no tools at all.
The light set's powerful battery provides reliable illumination for extended durations.
Cons:
The battery's runtime is somewhat wanting when contrasted with other rechargeable bike light batteries.
The rear light is made of plastic thus less sturdy than the front aluminum light.
Final Verdict:
Simply put, the Vision 2 1000 Lumen USB Rechargeable LED Mountain and Road Bike Headlight is a life saver for night-time mountain bikers. Its brightness is exceptional, its mounting process is a walk in the park and its multi-mode operation qualifies it as a fitting bike light for a myriad of cycling verticals, aggressive Gravity biking included. Ergo, it's one of the best bike lights available today.
---
#3. Malker Bicycle Front and Rear Mountain & Road Bike Light with Batteries
Manufactured by Coolchange, this set of bike lights is composed of a headlight and taillight and is powered by a set of two CR2032 replaceable batteries for each light. This light is made from premium Silicone alloy to make it durable, weatherproof and resistant to low impacts. Moreover, it features 3 versatile light modes to illuminate your path effectively in various levels of darkness.
Features:
Made of lightweight, durable and waterproof silicone alloy.
The set features an ultra bright LED headlight that illuminates up to half a mile and a taillight.
Each light is powered by two CR2032 Lithium Ion button batteries.
The lights are controlled by a one-touch easy-to-use switch.
The whole set weighs roughly 21g.
Pros:
The light's batteries are exceptionally powerful and will last between 45-70 hours of continuous use and up to 160 hours with scintillation use.
The mtb light set is weatherproof so you can ride in challenging terrain without unduly worrying about light falls and hits.
It comes in a host of headlight colors including white, blue and red you can opt for your favorite.
You can use the light even in rough weather as it's forged from water resistant silicone alloy.
It's lightweight, making it a fitting addition to even the lightest mtbs.
The set is extremely easy to install without need for any tools. Its control is also straightforward so any rider can use it hassle-free.
Cons:
The batteries are not rechargeable so you'll need to replace them upon depletion of charge.
Though they are super bright, they aren't as powerful when compared to other rechargeable bike lights. Besides, they chew through the batteries so they may serve you for only a short time.
Final Verdict:
At their ridiculously cheap price point, the Malker Bicycle Front and Rear Mountain & Road Bike Lights with Batteries are surprisingly bright and reliable. They are lovable as you can easily mount them on any part of your bike with a tube. Besides, they are uniquely easy to operate and feature multi-mode use.
---
#4. Bright Eyes Fully Waterproof 1600 Lumen Rechargeable Mountain and Road Bike Headlight with 6400 mAh Battery
Made for serious mountain and road cyclists, this bike light is composed of a long 1600 lumen headlight with an external 6400mAh battery pack. Designed to provide 300ft of visibility and 500ft brightness, this light has 3 working modes that include high brightness (1600 lumens/6hrs), medium brightness (900 lumens), low brightness (450 lumens/30 hrs) and bright strobe modes.
Features:
High quality LED headlamp and LED taillight.
8.4V 6400mAh long lasting Lithium-Ion rechargeable battery and wall charger.
4 heavy duty O-rings for headlight mounting.
VELCRO ties to secure the headlamp and battery wires.
The set includes a head harness for campers, hikers and runners among other tactical operatives.
Pros:
This set provides bright unwavering light ideal for long rides in the dark. It matches up to a motorized car's headlamp.
The headlight controls feature 4 working modes befitting various levels of darkness. This will also help you better manage your battery power.
The light set is solidly built with high quality components to guarantee longevity.
Its price is appealing, given its high quality.
The lights' design is also stylish so it'll definitely highlight your bike's aesthetics.
Cons:
The light's rated lumens may be considerably lower than the actual values, especially when contrasted with more costly mtb light sets with similar ratings.
This set is notably heavier and bulkier than other bike lights mostly due to its external battery pack.
Final Verdict:
Though it may not attach easily to a helmet, the Bright Eyes Fully Waterproof 1600 Lumen Rechargeable Mountain and Road Bike Headlight with 6400 mAh Battery attaches easily onto a bike's handlebars with O-rings.
---
#5. Super Bright Night Rider LED Front Headlight and Rear Mountain Bike Lights Set
This mtb lights set is composed of a front LED headlight with 4 working modes including a flashing mode. While the lights' 3.7V built-in micro batteries are rechargeable via a USB cable, the LED chips are designed for optimal brightness. Made of Silicone and plastic compounds, this bike lights set is waterproof, impact resistant and is made with quick-release anti-slip grips.
Features:
The lights set weigh approximately 100g.
The set has an irradiation range of 500 feet.
The lights set's LED chip features 3W CREE LEDs.
The batteries take 5 hours to be fully charged and are connected to a charging status and low battery indicator.
Four working modes including High brightness (200 lumens/3hrs), Medium brightness (100 lumens/4hrs), low brightness (50 lumens/7hrs) and Flashing modes.
Pros:
Both front and rear lights are super bright to illuminate your way and guarantee your visibility and safety on the road.
The batteries are long-lasting and reliable.
It's easy and convenient to recharge this lights set as it's equipped with a USB recharge port and an easy fit/quick-release mechanism (you don't have to unhinge the lights' brackets).
The set is weatherproof and impact resistant thus convenient for use in any terrain and weather.
The set is compact, small and lightweight thus won't add unnecessary weight to your bike.
For the price, this is an excellent quality mtb lights set and a value-guaranteed purchase.
Cons:
Though the flashing mode is exceptionally bright, the steady beam isn't nearly as bright thus the light isn't convenient for illuminating extremely challenging terrain like pot-holed roads.
The set may stand rough use isn't made for extremely aggressive riding.
Final Verdict:
This super bright bike light is not only a guaranteed value-return-it can double as a flashlight. Besides being easy to install and use, the Super Bright Night Rider LED Front Headlight and Rear Mountain Bike Lights Set is suitable for mtbs mostly used on roads and easy to mildly challenging rough roads.
---
#6. Revtronic BT40S 1600 Lumens Cree LED Mountain Bike Headlight Bundle with a 5200mAh 7.4V Rechargeable Battery Pack
Designed for the ultimate night mountain biking experience, this bike light provides a wide-beamed and exceptionally bright illumination from its white LEDs powered by a powerful and long-life 7.4V battery pack.
Features:
Includes 4 Cree XP-G2 neutral white LEDs with maximal 1600 lumens output.
Powered by a super long lasting 5.2Ah 7.4V rechargeable Li-Ion battery with a runtime of between 3-12.8hrs depending on your select brightness intensity.
Digitally configured output to regulate overheating and maintain constant brightness.
The light is integrated with a high quality optical lens which projects wide-angled beam and lovable beam throw to prevent eye fatigue.
Four brightness intensity modes including 1600 lumens for turbo mode, 1200 lumens for high brightness mode, 800 lumens for medium brightness and 480 lumens for the low brightness mode.
An LED battery power indicator displaying the battery's remaining capacity.
Made of long-lasting aircraft-grade aluminum.
Pros:
The neutral white LEDs emit a gentle beam that keeps your eyes from visual fatigue even after long mtb rides in the dark.
The light features a helmet mount to enable you attach it on your head.
The accompanying flood lens allows you to use this bike light conveniently as a reading, camping or other tactical lights.
It's made using aircraft-grade aluminum which is superbly lightweight and durable.
It's easy to attach this bike light set to handlebars ranging from 20mm to 35mm diameter, thanks to the O-ring mounting straps.
The light's digitally regulated output maintains the output light at constant brightness and prevents overheating.
Cons:
The light's assembly instructions are somewhat wanting.
Sadly, the light set lacks a horizontal adjustability mechanism so it may not clearly illuminate the path ahead if your bike's handlebars aren't perfectly aligned.
Final Verdict:
At its affordable price, coupled by the numerous operation and appearance perks, the Revtronic BT40S 1600 Lumens Cree LED Mountain Bike Headlight Bundle with a 5200mAh 7.4V It's incredibly well built for downhill, cross country, commuter and casual mountain bike rides.
---
#7. Te-Rich 1200 Lumens Super Bright Waterproof Front LED and Taillight Set with 4400 mAh USB-rechargeable Battery
Made of durable and lightweight aircraft-grade Aluminum, this bike lights set produces a super bright and consistent neutral-white light beam to illuminate your way 300m ahead. The headlight has 4 working modes while the tail light is built with 3 operation modes. Moreover, this mtb bike lights set features 300 degrees swivel ability to facilitate clear path illumination.
Features:
The set is made from IPX-6 waterproof premium hard-anodized aircraft-grade aluminum with anti-abrasive finish.
Multi-function front light ideal for mountain biking, road cycling, commuting and as a tactical torch during hiking, fishing and camping among other expeditions.
10W Cree XM-L2 LED chip with a 900 feet 1200 lumens output beam.
The set is powered by two 2600mAh 18650 long runtime USB-rechargeable batteries.
The headlight's horizontal adjust-ability is built with 360 degree swivel ability.
The set is equipped with an LED charging indicator.
Pros:
Made of premium aircraft-grade aluminum, this is one of the best bike lights set in durability.
The set is lightweight thus easy won't compound your bike's weight unnecessarily.
The front light LEDs emit a neutral-white beam that not only illuminates your path clearly but also saves you from visual fatigue after long rides in the dark.
The headlight's beam shoots to 300m and spreads across 900ft, providing spectacular visibility even in the darkest of nights.
The batteries are exceptionally long lasting: full brightness-7hrs, medium brightness- 11hrs, low brightness- 24 hours and strobe mode- 38 hours run time.
It's exceptionally easy to install and use.
Cons:
At full brightness, the headlight beam is somewhat narrow for wide bike paths and technical trails unless the light is mounted on the helmet.
Final Verdict:
Without a doubt, the Te-Rich 1200 Lumens Super Bright Waterproof Front LED and Taillight set with 4400 mAh USB-rechargeable Battery. It not only has lovable runtime but also commendable brightness and a flexible range of working modes.
---
#8. ShenKey 2000mAh/1000Lumen LED Bicycle Light
This bike headlight features super bright CREE T6 LEDs with a maximum output of 1200 lumens and easily swappable brightness modes including high (1200 lumens/3hrs), medium (800 lumens/5hrs) and strobe mode (12hrs). It's designed to fit in a majority of tandems' handlebars and also allows for easy mounting on helmets. Further, it emits a flat beam ideal for illuminating the path ahead without blinding oncoming traffic.
Features:
The light is made using high tensile aviation-grade aluminum alloy.
The bulbs are CREE N6 (L2) LEDs with an astonishing lifespan of 10,000 hours and 164ft beam coverage.
It's made with a 360° swivel mechanism to enable you illuminate any direction and area of your choosing.
A 2000mAh rechargeable Li-Ion battery.
USB charge port for convenient charging.
The light's controls are touch-sensitive.
Pros:
The light's build encompasses IP65 waterproof material, making it ideal for bike riding in the rain.
The CREE N6 (L2) LEDs emit a super bright beam which illuminates your bike path lovably besides ensuring other road users see you clearly.
The light is easy to mount on helmets (and ships with helmet mounts), making it a fitting tactical light ideal for hunting, DIY workshop bench illumination and hiking among others tasks.
This bike light set features a quick-attack-and-release, making installation a breeze. This also allows you to unhinge it swiftly and easily to prevent thievery.
Charging this light's battery is hassle-free as you can connect it to any device with a USB port.
Designed with universal fit, it easily installs on all types of bikes.
Cons:
The light's touch-sensitive control is easy to use but can also lead to easy accidental switching as it can be set off by any part of the hand. This is also a downside for riders who like putting on gloves.
The fitting mechanisms for both handlebars and helmet require intricate handling to ascertain they are firmly secured.
Final Verdict:
Though you can conveniently use it for other purposes in addition to bike path illumination, its battery drains considerably faster than several others in its price range. Still, it'll more than offer you value return.
---
#9. Night Eyes 1200 Lumens Mountain Bike LED Headlight with an 8.4V 6400mAh Rechargeable ABS waterproof Battery and Aluminum Taillight
This bike light is built with a maximum output of 1200 lumens to provide reliable illumination at 500ft brightness and 300ft visibility. Equipped with high quality LEDs and a powerful long-lasting rechargeable battery, this light is a worthy purchase and a valuable addition to your night-time mountain biking experience.
Features:
CREE-T6 LED chip technology with a dual working mode (3-mode and 5-mode).
A top quality 8.4 6.4Ah external rechargeable Li-Ion waterproof battery pack.
A headband strap to allow campers, hikers, hunters, runners, DIY workshop operatives and fishermen use the light.
External fast-charging AC charger.
Red LED low battery alert indicator.
Pros:
The set ships with 2 compact headlight fasteners to ease headlight mounting.
The battery pack is waterproofed thus suitable for use even in challenging weather.
The Night Eyes LEDs integrated into the headlight are top-grade, energy saving and exceptionally long-lasting.
This light is designed with 2 working modes, one featuring 3 brightness levels while the other has 5 brightness intensity selections including an SOS blinking pattern.
The powerful battery pack guarantees dependable light brightness and longevity, making the light set fitting long-distance night ride mtb integration.
It's surprisingly low-priced.
The headband allows the light to double as a tactical lamp.
Cons:
Though the external battery pack compounds the light set's reliability, it also adds to its bulkiness.
The battery pack and headlight's straps are cheaply made thus break off easily.
Final Verdict
Though the external battery pack is somewhat bulky, the Night Eyes 1200 Lumens Mountain Bike LED Headlight with an 8.4V 6400mAh Rechargeable ABS Waterproof Battery and Aluminum Taillight is still an mtb light to reckon with. It not only provides sufficient brightness and visibility to illuminate the path ahead but can also be alternatively used as a probe light, SOS signal and tactical flashlight.
---
#10.
Blitzu Gator 320 Powerful LED Front and Back USB Rechargeable Bike Light Set
Manufactured by Blitzu, this set of front and back LED bike lights is a one-in-all package. It's designed to save all night bike riders both money and hassle while at the same time guaranteeing safe rides.
Features:
Super bright 320 lumen output front light and accompanying taillight.
Weather tight design including IPX-5 water resistant rating.
4 lighting modes- low, mid, high brightness and flashing mode.
USB rechargeable Li-Ion battery.
One touch dismount button.
Smart charging system with automatic fully charged cut-off.
Pros:
This bike lights set is lightweight.
Its stylish design is a perk up to any bicycle's visual appeal.
The front light emits super bright light for bike path illumination while the taillight keeps you clearly visible.
The one touch dismount button will enable you to easily slide out the light without removing the whole bracket.
It features an easy-to-use control button conveniently positioned on its top side for unhindered access.
It's a compact lights set with no external wires.
Cons:
The front light's brightness isn't as sharp as others in its price range.
At full brightness setting, the battery has a considerably short runtime (about 2 hours).
Final Verdict
The Blitzu Gator 320 Powerful LED Front and Back USB Rechargeable Bike Light Set is one of the best in the bike lights market. Featuring indestructible build, it's exceptionally reliable and durable while its weather tight feature makes it a plausible bike light in any weather. Besides, it's extremely versatile as it can be easily dismounted and conveniently used as a flash or tactical light.
---
Top 5 tips to get the most from your mountain bike lighting
Though a lot depends on your choice of mtb lighting, there are measures you can employ to optimize the efficiency of your mtb lighting of choice. They include:
Each terrain will be served effectively by specific bike light designs so you want to identify your riding ground beforehand. Usually, the best bike lights for flat or rolling terrain have 1000 to 1500 lumens but you may need to double this for safe and effective technical and fast-paced mtb riding like Enduro racing.
If you ride your mtbs in a group, you can tone down your headlight and follow the rider in front to save on your battery power. This also prevents the riders in front from distraction by shadows formed by bright lighting behind them.
Make it a habit to turn off your lights when you aren't using them to further save on battery power.
It's advisable to run a probe or blinking light in addition to your headlight and a taillight to ensure other road users spot you from far.
Correct beam distribution is crucial to illuminate your bike path and keep you safe. If you mostly ride on trails, it's advisable to run a helmet light besides your handlebar-mounted headlamp. While the bar light forms shadows and texture on the path so you can easily read the trail, the helmet light provides a focused beam so you can easily spot turns, look down on your mtb gears and look over obstacles in your path.
How we test the best bike lights
In a bid to provide accurate bike light descriptions, each of our lights is individually tested to ascertain its specifications. In measuring the lights' output, we focused all the bike lights, solitarily, onto an integrating sphere, the scientific instrument used to measure lumens. Further, we conducted solo tests on the various lights in varying weather and terrain conditions then harmonized the observations to come up with first-hand data.
Conclusion
Evidently, there's a staggering cornucopia of mtb lights in the market, a situation that may easily overwhelm any buyer. To steer clear of the confusion muddle, you should heed the aforementioned pre-purchase considerations. Moreover, restricting your purchase to a pre-established budget is a simple but helpful way to find the best bike lights.